This Wednesday, Headroom was transformed into a venue, packed to the brim with music fans, all thanks to Sofar Sounds!
What exactly is Sofar? Founded in 2009, it's the world's largest live music discovery community.  Sofar Sounds cultivates a global group of genuine music fans and creates an intimate environment for those fans to discover and appreciate live music. Sofar's concerts take place in living rooms around the world, and this month, landed in our very own living room!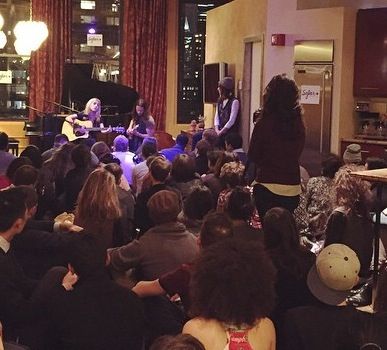 The show was bursting with talent, packed with four incredible and diverse acts. Atlanta based singer-songwriter Sara Rachele took the stage first, and set the tone for the intimate evening. Sara was followed by R&B/Indie/Soul band The Rooks, who's set included an especially noteworthy acoustic cover of Destiny's Child's Bills, Bills, Bills.
After intermission, the talented vocal powerhouse Kiah Victoria blew us all away with her beautiful track Aurora, and left us wanting more. Acoustic trio City of the Sun rounded out the exciting evening of music discovery with an intense and mesmerizing set. All in all, we couldn't have asked for a better line up, and a more seamless show! Thanks to Sofar for having us host this memorable event, and look forward to the next show!